Mischief Series – Mercy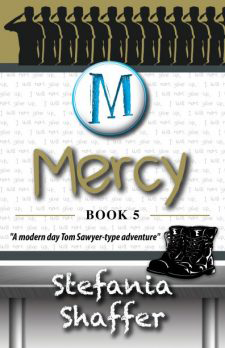 Know Justice, Know Mercy
As Slater Hannigan's friends anticipate their final year of middle school, they anxiously await his fate from the juvenile court judge. Vivian Iverson, Slater's new probation officer, will need to make a case to the judge recommending a punishment for stealing Kirby Keaton's computer. But first she will need to interview everyone who has ever met Slater Hannigan.
Unfortunately, Slater fears that everyone will send him to jail.
This is a story of choice and consequences. Slater Hannigan's entire journey following a crooked path leads him to this fork in the road. There are no escape routes from Baker's Creek, a place that leaves him aching for home.
In the most harrowing scene of all, Slater conveys his vulnerability as he prays for mercy, desperate for one more chance.
After tremendous reflection, when Slater emerges at the end of the eighth grade, the answers to the reader's questions will all be satisfied: What happens to Chicky Cicarrelli, Tobey Peterson, Macaroni Maroney, and, of course, Sibley White? Does Slater ever reconnect with Madame Wilson? What is Principal T.C. Uliuli's real name? Will Slater Hannigan ever realize the most important lesson of all—empathy?
Childhood is meant for learning.
MERCY appears as a fifth bonus book in the 4-book Mischief Series for Middle-Grade readers.
Become a V.I.P. Member of the Mischief-Makers Club
Dear Reader,
Did you enjoy Mercy? I've been waiting on pins and needles for you to finish. On behalf of Slater, and all the boys, I want to thank you for spending your free time inside these pages.
If you would like to post a recommendation of this book, please go to: www.amazon.com and then type in Stefania Shaffer.
Find the book, write a review, add some stars and then, snap, you're done.
As for me, I have already cleared a special spot on my shelf for all five of the new books in the Mischief Series. See you in the V.I.P. Club!
Yours truly,
Sibley White
P.S. To become a V.I.P. member of the Mischief-Makers Club, sign up for my newsletter here at www.MischiefSeries.com for top-secret giveaways and previews of future books.